About us
Bank View School an outstanding special school, based over two sites in the north of Liverpool, for students with complex learning difficulties. Bank View caters for pupils aged 5 to 19.  We are committed to ensuring equality of provision throughout the school.
The school moved to its new site at Long Lane, Fazakerley in September 2015. The accommodation and learning resources here are excellent and maintained to a very high standard.  It has purpose-built science, food technology, design technology, vocational, computing, music/performing arts and art areas plus a sixth form facility for 35 students. The sports facilities include a Multi-Use Games Area (MUGA) and gym. Students have their own indoor and outdoor recreational areas including common rooms and outdoor play/relaxation areas.
In September 2017 we expanded our provision to include primary aged students. We now have 5 primary classes – two on our Long Lane site and three based at Croxteth Primary School,
Students are also supported across school by the Wellbeing Hub (formally known as the ARC) where students can go when they need pastoral, emotional, therapeutic and academic support. The  Wellbeing Hub provides reactive and proactive support delivered by a team of experienced mentors.
We are also offer a wide variety of therapies in school including the opportunity for students to be involved in mindfulness, relaxation techniques, and massage and play therapy sessions.
Students are offered a broad balanced education covering all aspects of the National Curriculum enhanced and supplemented by alternative curriculum experiences, lunchtime and after school clubs as well as other extra-curricular activities such as residential experiences.  As a school we place a great emphasis on the performing arts and cultural experiences.
Our new students come from a wide range of primary schools across Liverpool, in the main, because of the demand for places within the LA less pupils now come from outside the borough. We have a comprehensive transition programme which includes at least one visit to Bank View for parents and students before admission. Staff responsible for transition also visit the students in their primary schools.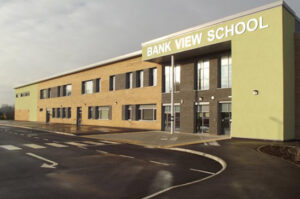 From Year 7 onwards most students follow a mainstream secondary model with lessons being taught by a range of subject specialists. However, in partnership with parents our most vulnerable students academically and socially can be placed in one of our base classes (there are 5 base classes – 4 at KS3 and 1 KS4) class. These classes are taught on a primary model with students accessing specialist teachers in only a few areas.
We are extremely fortunate at Bank View to have fantastic staff who are committed to improving the life chances for all our students. We have high expectations of our students, we want them to enjoy and engage in their learning. We challenge our students but, more than that, we want them to challenge themselves. Our aim is to support them to overcome their barriers to learning so they attain and achieve their potential, educationally, emotionally and socially.
All students enjoy equality of opportunity, regardless of sex, race or ability. Our aim is to provide an education which is relevant and worthwhile, preparing our students for the world of work and ensuring that they leave us as caring young adults who have developed positive attitudes and values and are respectful of others.
The school building is wheelchair accessible and has a lift for disabled access to the upper floors. It also has comprehensive toileting and showering facilities for disabled people.
If you would like more information or would like to visit the school to see us at work, please do not hesitate to contact the school office (Natasha Parry – Admin Officer) on 0151 3305101 or email:bankview-ao@bankview.liverpool.sch.uk  . We believe that education thrives best within a partnership of student, parent and school. Parental contact is actively sought and always welcome.
If, as a parent of a student attending this school, you require a paper copy of the information on this website, we shall provide this free of charge.
Click here for our Ethos, aims and vision